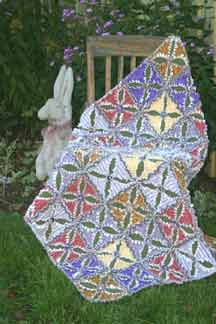 # 2075 Petals in the wind
This colorful ragged edged quilt is
made from colorful flannels. So, it
is soft and warm. It can be made
any size by simply increasing the
number of blocks per side.
Price$7.50
Digital Download Price $5.00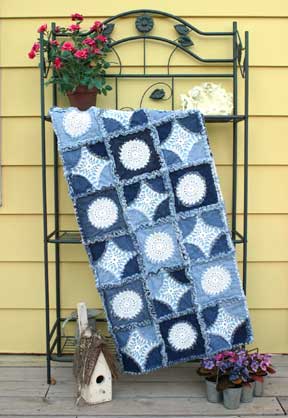 # 2350 Denim all laced up
Denim all Laced Up is a result of
one of my dogs chewing the corners
off my lace table cloth. I did not want
to just throw it away, so I turned it into
a new version of my frayed edged quilts.
You can use old lace or new doilies
for the lace.
Price $7.50
Digital Download Price $5.00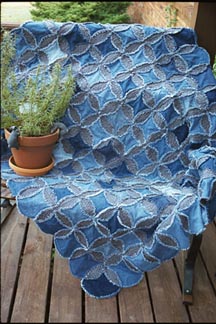 # 9800 Stars and circles
Another recycled denim project for
your enjoyment. This one is a little
more difficult to make but the results
are worth it. The frayed edges give
it a unique look.
Price $7.50
Digital Download Price $5.00