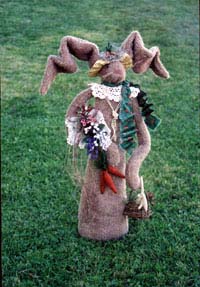 # 2000 Harriet Hare
This 28" rabbit is dressed to party. She is made from brown shaggy felt. Her ears and scarf are bendable to position as you like. She is also weighted to help her stand.
Price $7.50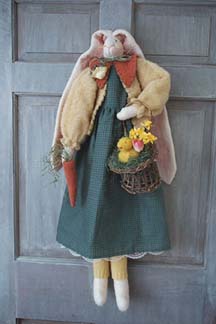 # 2098 Angela Hare
Angela Hare is a 34" rabbit. She will hang or sit. Perfect for bringing life to your door or any room.
Price $7.50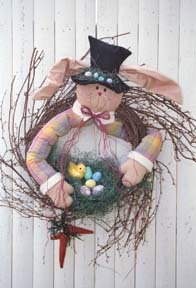 # 2300 Rabbit in Wreath
Order our Rabbit in a wreath so you can make yours before Easter. The wreath is 16" and the doll will easily hang on your door or wall.
Price$7.50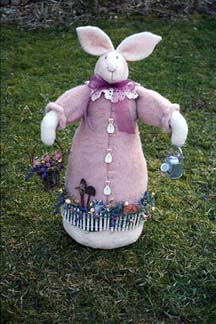 # 2985 Rosebud
23" rabbit made with Plush felt and Warm and Natural fabrics. Her name is Rosebud.
Price $7.50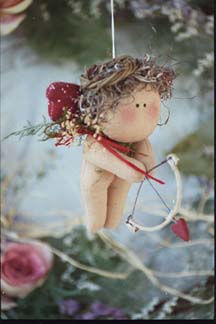 # 1195 My Little Cupid
My Little Cupid is 5" tall and will bring love wherever you hang him.
Price $7.50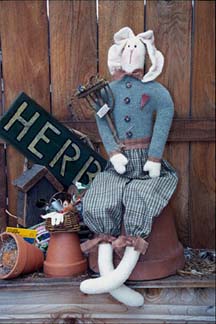 # 2995 Garden Anticipation
31" rabbit doll ready to plant his spring garden. Made with plush felt and cotton prints. He has wires in his ears to make them pose able.
Price $7.50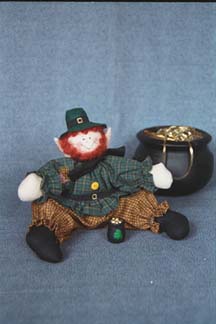 # 350 Sitting Leprechaun
A 7" Leprechaun with his own pot of gold. Perfect for that rainy day.
Price $7.50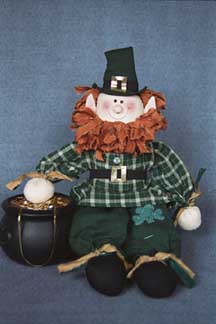 # 375 Scotty McGinnis
Scotty McGinnis is a 24" leprechaun made to sit or hang. He has buckles of gold on his hat and belt, cotton print shirt, and a ragged beard.
Price $7.50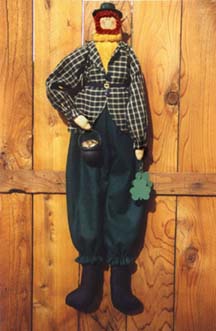 # 3098 Luck of the Irish
34" Leprechaun with shamrocks and a pot of gold. He will hang or sit in your favorite location. Maybe his luck will rub off on you.
Price $7.50